Mikatan updated her
Blog
with preview images of the upcoming"Nendoroid Natsume Rin" from Little Busters! by Good Smile Company ^^
Reservations will open on March 22nd, 2013.
This new 1/8 scale figure of "Panis Angelicus" from Shining Ark, will be available this coming August 2013 by Kotobukiya for7,800 Yen retail price.
This white hair
Sengoku Nadeko
Panis Angelicus is cute and you can display her with both wings or a single wing! Kotobukiya kindly give us an extra upper body without the right hole on her back when we display her with a single wing.
According to the Kotobukiya blog, they originally planned to include the extra upper body only without the clothes. Then they found that people might broke the clothes when they swap the body. After some thought they decided to include the extra upper body with the clothes, just like the image below.
Now here comes the interesting part! If they planned to make the extra the upper body without the clothes originally, does that mean the clothes is
castoffable
? =P
——Description from Manufacturer——
Here comes the girl with wings, Panis Angelicus!
She has been sculpted with a soft smile and clear material has been used for the clothing. Inside of the dress has been painted with maica pearl color and silk like texture has been achieved!
The wings on her back comes in white right wing, black left wing and white left wing versions. By exchanging body parts, you can display her in either no-wing styled or wing styled mode with your choice of color!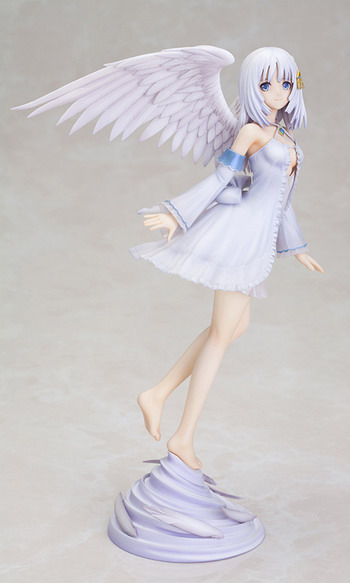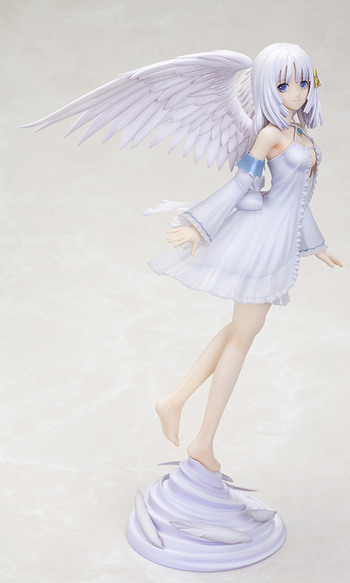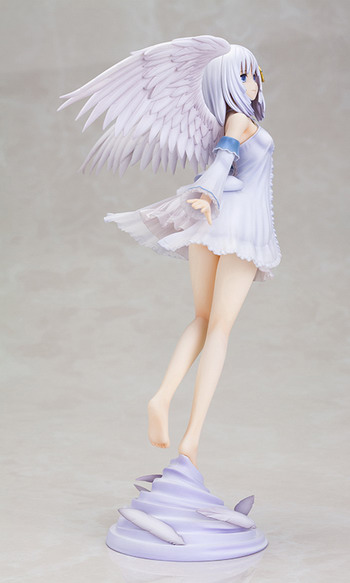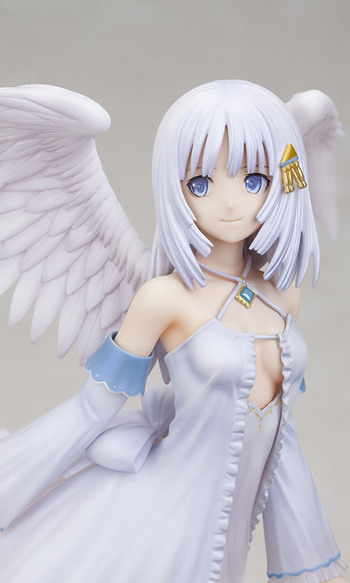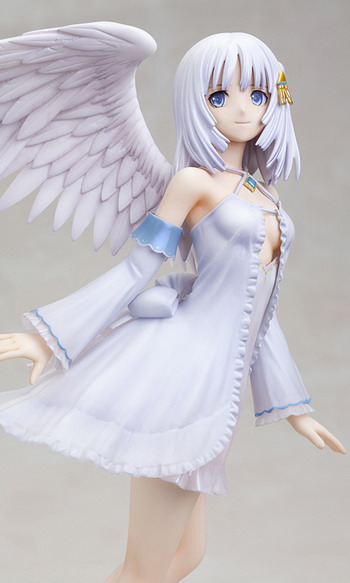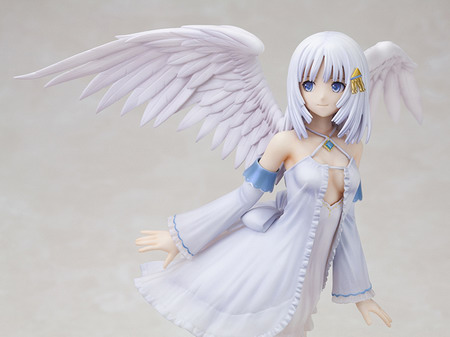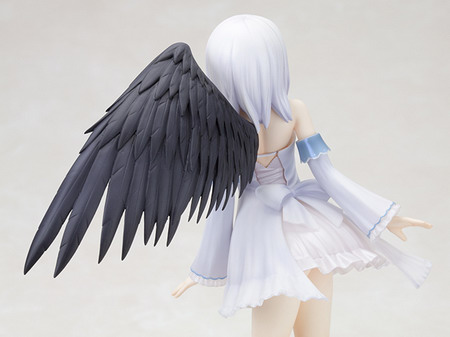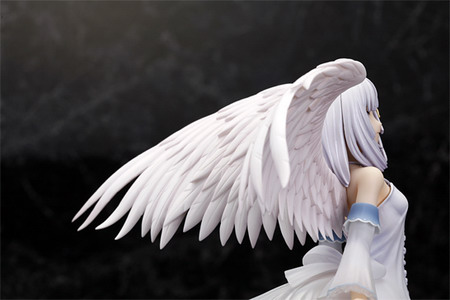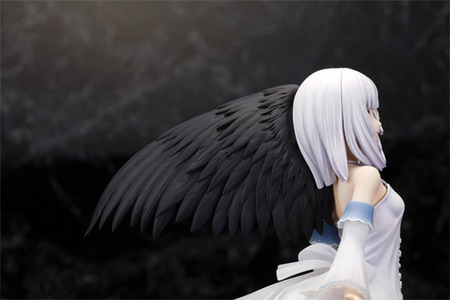 Source: http://www.nekomagic.com/?p=39217
**
figma 185 Takamachi Nanoha
and
figma 186 Fate Testarossa
sold separetely**
Source: http://www.nekomagic.com/?p=39247
From Boku wa Tomodachi ga Sukunai NEXT:
Nendoroid Kobato Hasegawa!
From the anime series "Boku wa Tomodachi ga Sukunai NEXT" comes a Nendoroid of Kodaka's little sister, the adorable Kobato Hasegawa! Her cute goth-loli outfit has been shrunk down, and her different colored eyes look just as cute in Nendoroid form! The patched-up bunny plushie she always holds on to is included, along with the 'An-chan Plushie' which shows just how severe her brother complex is!
The third Haganai Nendoroid, following on from Yozora and Niku!
The upper arm of her adorable goth-loli outfit (where the red ribbons are) is detachable, and her hips are fitted with a Nendoroid joint which makes her really posable!! It's so much fun!
Plus she also comes with a load of optional parts to play with!!
This is how she looks from the back!
Her outfit has frilly lace all over, but the lace on her sleeves and petticoat are separate parts – which gives a much more realistic feel to the outfit!
The frills in her hair can spin around to make sure that they won't get in the way of posing the twin tails!
Her patched-up bunny is also included!
It's so tiny but still so detailed!! There are still so many separately painted areas… and just look at the tiny stitches!! (((゜Д゜)))
You can pose her holding it with just one arm like in the image above, or with both arms instead!
I got thirsty so I ordered a Kobato Hasegawa juice! (・∀・)
I actually really wanted to try the 'Neighbor's Club Udon', but I don't think it would be a good idea to eat with trying to take photos of Kobato-chan! But I'll definitely be back another time to try some!!
Every time you order a drink at the café, you also get a lovely character coaster to take home with you! There are many different series menus to choose from, so be sure to check out the café if you're ever in Akihabara!!
Boku wa Tomodachi ga Sukunai NEXT Café:
http://www.gstjcafé.jp/theme-café/1589/
A smiling expression and An-chan plushie!
Once again, amazing quality for such a tiny part!! Σ(゜Д゜;)
To show just how much Kobato loves her brother, she even comes with a plushie of him!! Separate bent arms (not the same ones as for the bunny) are also included for her to hold this plushie.
When she holds the bunny plushie it's more like she is hugging it, but with the An-chan plushie it's more like she is gently wrapping him in her hands instead!
"My name is Leysis Vi Felicity Sumeragi…
an ancestor of the Great Blood Clan of the Night!"
We can't forget this pose!!
Two special arms are also included to fully recreate the 'Leysis' pose!! You really can pose Kobato in all of her most important poses! 。・゜・(ノД`)・゜・。
But the most amazing parts have to be these!! ヽ(゚∀゚)ノ
A sulking expression and sitting parts!
She's so adorable!!!
I guess there are some people who might not find this to be a cute expression… but I think I need to sit them down in a late-night bar and help them get the facts straight!!
Posed faces aren't what makes girls cute!! It's expressions like this!!
Expressions like these are the ones that really show off true personality, which makes them all the more special! Just looking at her like this makes me want to pet her on the head and say "There, there… everything will be alright'.
Plus, Nendoroid Yozora Mikaduki is being rereleased!
She'll be up for preorder on the same day that Kobato opens for preorders! Yozora even comes with the sofa in the Neighbor's club, so if you missed out the first time, be sure you don't miss out again!!
From Boku wa Tomodachi ga Sukunai NEXT:
Nendoroid Kobato Hasegawa!
She'll be up for preorder from the 26th March! (`・ω・´)
Get in contact with our partner shops if you have any preorder or sales queries!
Finally, a quick notice!!
On the 23rd and 24th March, GSC will be at the Tokyo International Anime Fair at the Tokyo Big Sight! ヽ(゚∀゚)ノ
The booth name at the event is "GOOD SMILE COMPANY & ULTRA SUPER PICTURES (Booth #D-2)"! There will be a number of companies involved in the anime world at the event, so be sure to stop by if you're in the area!
Even just looking around the event is always a load of fun!
There will also be new figures on display!
This photo is of Deep Sea Girl Miku, which we first saw back at WonFes! She's back again after a couple of small changes! Nendoroid Kobato Hasegawa will also be on display at the event!!
There aren't too many figures on display, but there will also be a few brand new figures debuting at the event too!!
Also, it's that time of the year for the cherry blossom photo festival!
source: http://mikatan.goodsmile.info/en/2013/03/22/nendoroid-kobato-hasegawa/
From wooser's hand-to-mouth life:
Nendoroid Ren & Darth wooser!
From the anime series featuring the 'new hero'(?) wooser, 'wooser's hand-to-mouth life' comes a Nendoroid of the modern-day girl, Ren! But that's not all – Darth wooser, the silent freeloading creature is also included along with are all sorts of extra parts to really show off Ren's adorable charm!
A second set following on from
Rin & wooser
!
In March we see the release of Nendoroid Rin & wooser + Mechawooser, which had some of the most impressive volume for a Nendoroid ever… and now we also have Ren coming to join them too!
Posing the two of them together looks really cute, and there are even special parts to make a specific pose together which I'll show at the end!
This is how they look from the back!
It's quite hard to see in this photo, but the hoodie Ren is wearing has Darth wooser's eyes and nose on it! (the dot in the middle isn't a mouth).
The attention to detail is great as always! The gap of skin you see between her skirt and socks also looks lovely! (=゜ω゜=)
She can also wear the hood!
If you look closely, you'll also notice that Ren's fringe is different when wearing the hood! What this means is that…
She actually comes with two complete head parts!! Σ(・∀・)
Along with bent left and right arms, she also comes with a clenched right hand and a pointing left hand! Bent arm parts allow for so many different poses, they're easily one of my best things to have when posing a Nendoroid!
She also comes with a swimsuit body!
T-This is one really sexy Nendoroid!! (((゚Д゚)))
It's nice to see that even Nendoroids can have a sexy side sometimes! She also comes with arm parts that be put in front of her like this which really show off her impressive bust! Kahoyama was in charge of this figure, and I really have to thank him for including such a sexy pose!!
But hold on… there are two complete head parts and two complete body parts… can you see where I'm going with this?
The reverse side of the swimsuit!
The bare feet do cause the leg joints to show a bit, but you can still make out her lovely curves which I think look great! You can have her with or without the hood in swimsuit version as well.
As you can see in the image, she comes with two complete bodies and heads, which means… you pretty much get two complete Nendoroids!! Σ(・∀・)
Darth wooser is also included!
I've been focusing on Ren completely up until now, but we can't forget about the mysterious, red-eyed Darth wooser! He's not just an extra, he's one of the main features of the set! (`・ω・´)
It's strangely relaxing to see the contrast between him and the yellow wooser. Oh, and the dot in the middle is his nose, not his mouth. (For the second time.)
A heart-pose together with Rin!
A special set of arms and 'heart hands' are included with Rin and Ren to create this pose! But no one said anything about this when
Nendoroid Rin & wooser + Mechawooser
was announced! (((゚Д゚)))
Kahoyama kept some things hidden for even more of a surprise!! (`・ω・´)b
From wooser's hand-to-mouth life:
Nendoroid Ren & Darth wooser!
Source: http://mikatan.goodsmile.info/en/2013/03/21/nendoroid-ren-darth-wooser/
Happy OTAKU-ing !? *cough* *cough*
Reiya 零夜 (Jo)
Please like my Facebook page above to subscribe the posts in your Facebook.
AHA - Yorukaze's FB Page
Please browse my Trade photos to browse my sales items.
My Trades